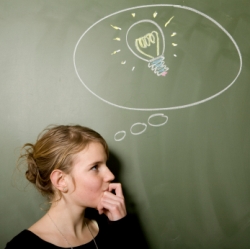 Healthcare Marketing Requires Innovation
One of the things I try to help all of my clients see is that innovation has a place…even in medical practice management and healthcare marketing.
For some this is difficult to understand. Breaking free from the status quo and the "it's just the way it is" mentality is hard and even scary. But time and time again I see those physicians and practice managers willing to embrace and entrepreneurial mindset reaching new heights of professional success and personal satisfaction.
I can preach and drone on about this concept, and it might get you thinking about what you can do to turn things around in your medical practice. But rather than bore you with ideology, I'd like to share with you the following inspirational example. As they say, the proof is in the pudding.
The following story, excerpted from the article If You Want to Be Original, Start from a Different Box by Peter Bregman found on the Harvard Business Review blog goes like this:
My brother and his wife, Drs. Bertie and Rachel Bregman, started Westside Family Medicine in New York City, a unique practice that offers patients a lot of individual attention. I know because they're my doctors. Their practice is growing fast, and they've expanded from a single office to two, and are considering opening a third.

The volume of calls into their offices had skyrocketed and they were concerned that details might fall through the cracks or patients might receive inconsistent support from office staff. Also, the peaceful and patient-focused atmosphere in the office was at risk with all the office staff, schedulers, and insurance negotiators buzzing around in the background. Their goal was to continue to grow their practice without losing the essence of the personal high-quality service, which is what had stimulated their growth in the first place.

They worked backwards from that goal and questioned everything else. Rachel, with four small children (and one more on the way), spends a lot of her time at home. So they created a centralized call center in their living room, where Rachel could oversee and train all schedulers and insurance staff. This freed the receptionists at each office to focus entirely on patients while keeping the office environment peaceful. And while the call center will almost certainly outgrow their living room, the system could easily scale to any number of sites.
Perhaps this isn't so innovative if you're a credit card company, but a doctor's office? That kind of out-of-the-box solution happens when you think backwards from your goal.
So there you have it. If they can do it, why can't you?
Need some help? Send us and e-mail or give us a call. Let's see what we can do.