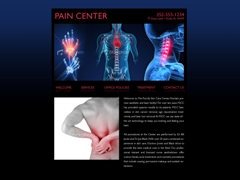 Applying proper SEO (Search Engine Optimization) practices to your medical website design will help increase your Internet traffic.  However, unless you are publishing quality and relevant content to your website, excellent SEO practices won't do you much good. This means your primary concern needs to be focused on creating content Internet users seek.
Develop a website that can be easily updated and modified, and provide fresh content to your site as often as possible. When you first develop your medical website, updating the content as many as three times per week is necessary.
That said, creating stellar web content and applying the following SEO practices will turn your medical website into an internet marketing machine.
First, begin by properly using keywords. Keywords are used by search engines to determine what a site's content is about.  The proper use of these keywords will drastically improve how a search engine ranks a site.  If a medical website site is saturated with keywords then it will be penalized.  Your site is considered saturated by a keyword when that one keyword or keyword phrase is used in more than 7% of that webpage's content. This is also known as keyword stuffing. The best SEO practice of your medical website is to use a single keyword or keyword phrase in no more than 5.5% of your web content. Also remember to place important keywords headings, titles, anchor text and tags to emphasis the keywords importance.
Second, use link your anchor text to outbound pages (or even better pages on your own medical website).  Both inbound and outbound links weigh heavily on how a page is ranked on the web. Links from similar sites and links from reputable sites to your medical website can also increase your site's rating.  The links are known as backlinks. What's more, if you can obtain a backlink that is associated with your most important keywords on a particular page, you site will rank even better. Always obtain backlinks properly. Never purchase links (except from Yahoo!'s directory). Purchasing links from linkfarms and the like may get you links quickly, but they can also get you banned by search engines. Bottom line: it's not worth the risk.
Third, if your just researching how to design a medical website for your practice, clinic, or hospital, select a keyword rich URL. When the keyword is in the URL (or domain name) and is directly related to the content of the site, search engines may find the site more relevant to matching search queries. The length of the URL is not important as long as it is rich in keywords while avoiding keyword stuffing.  When considering a URL, make sure the keywords use are important to the site otherwise the URL will be less important.
If you apply these best practices to your medical website design, you will be well on your way to maximizing the return on your investment because your website will become a powerful marketing tool.