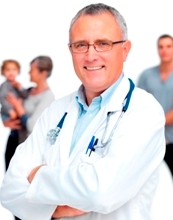 Okay, so having read Part I on applying Guerrilla Marketing Strategies to your medical practice, now let's discuss modern, effective – and inexpensive – ways physicians can market their practices.
It should be no surprise to you that the single most inexpensive and effective method for marketing your medical practice is to focus on internal marketing and referral generation.
Internal Marketing & referral building are not modern tools per se, but they are VERY effective and 100% FREE. Your focus on internal marketing should be based on developing a phenomenal level of customer service. I notice that physicians have a difficult time looking at their patients as customers and seeing their practices as a business…but they are.
Most importantly, you cannot fail to recognize that people recall and share bad experiences with their physician just as they would with their bank, a hotel stay or restaurant experience. The best way to keep your current patients loyal to you,  AND to generate referrals is by providing superior service within your practice and by creating incentives and tools for patients to use to spread the word about your practice. This can be accomplished within your medical office, using social networks, or by creating a rewards program for patients.
The way to approach internal marketing in your medical practice is the same as you would with and external marketing approach. Create a plan and establish a culture within your medical practice that prides itself on service. This means that you will need to implement some employee training on how to handle phone calls, how to welcome patients into reception, and how to handle conflicts and complaints. Essentially, you need to make your employees ambassadors of your medical practice. Talk to them about educating their own circles of influence about your medical practice and give them the knowledge and tools they need to do so effectively.
Another phenomenally inexpensive (but time-consuming) and effective healthcare marketing tactic is using Internet marketing tools.
The Internet is the single most cost effect method of advertising for medical practices if done correctly. There are a great number of ways to market on the Internet from using social media tools to actual online advertising, all of which are very effective in converting prospective patients into paying patients.
Surprisingly, medical professionals under-utilize the Internet significantly. Many medical practices and physicians don't even have a website, yet at the most basic level every single medical practice, clinic, or solo practitioner should have a website.
This is especially true because developing professional search-engine-friendly medical websites is easier than ever before. Many web hosting companies will provide you with free web site design software that includes easy to use templates so that virtually anyone can create a website.
When choosing a website consider running off of a blog platform or have a blog linked to your static website. If you can commit to blogging actively or hiring someone to blog for your medical practice, because blogging is an inexpensive but time-consuming Guerrilla Marketing tactic that will help you build relationships with your target market while improving your ranking in Google's organic search engine listings. Blogging is a very specific Guerrilla Marketing technique that requires effort and dedication, so it is not for everyone, but having a website whether it's a blog or standard "static" website is an essential Guerrilla marketing tool.
Lastly, medical providers can achieve excellent results marketing on a shoestring by hosting open houses and mini healthcare seminars. Open houses and healthcare seminars are very effective ways to market any healthcare organization. Although relatively inexpensive to carry out, there is a cost involved in promoting the event itself (depending on the methods of promotion you select). Regardless of that fact, giving a seminar or holding an open house allows you to demonstrate to your target patients the kind of care you offer while giving you a one-on-one opportunity to network with patients or potential referral sources. If you are personable and informative you will be sure to attract patients to your practice this way.
For more resources on how to implement these tactics in your practice, contact us at 866-672-9797 today!

photo credit: Photos8.com