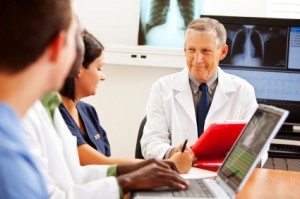 Today we are addressing workflow because of the recent surge in patient complaints discovered on twitter (see posts below). If you plan to maximize your return on investment in your medical practice marketing activities, then you must take the follow advice to heart. If you are failing to operate under a well-organized workflow  you are sabotaging your marketing efforts.
What is "workflow?"
The term workflow is most frequently referenced when discussing practice management. Most recently, the term is used in conjunction with integrating technology into the practice of medicine. The casual use of the term over time seems to have muddled its meaning. So what exactly is workflow? Simply put, workflow is the sequence of operations physicians implement to efficiently manage their workload and the workload of their staff.
Why do you often see "workflow" represented as the use of technology in the practice of medicine?
As the world becomes increasingly "electronic", industries across the globe are using technological advancements to improve their business process, increase efficiency, reduce overhead, and better serve their clients. As a result, many industries using technology they have improved their "workflow." This logic is supposed to apply to the use of technological advancements in the practice of medicine as well.
I'm using technology to improve my "workflow", but it hasn't improved.
Ironically, it is not uncommon for physicians and other medical professionals to find the use of technology in their everyday practice more cumbersome and inhibiting than helpful. This usually occurs because practitioners: have not adequately trained their staff to use the new technology, have not invested the time needed to fully understand how the technology is used, or have not planned for the integration of technology into their manual workflow. What's worse is that many practitioners don't even have a planned MANUAL workflow!
Plan a manual workflow? That's a waste of time!
No, not planning a workflow is a waste of time, and a waste of money! Failure to organize and plan a workflow for your practice leads to severe inefficiency, a slowly sinking practice, and a miserable practitioner. Taking the time to create a workflow (manual or electronic) is imperative for a successful medical practice. When you plan each step, process, and task for all areas of your practice you provide consistent quality service to your patients and get the most out of your staff!
Your workflow has a direct affect on the effectiveness of your marketing efforts.
Workflow affects your medical practice marketing efforts because if your practice is poorly organized, if patients wait for long periods of time, and if staff members seem uninformed or incompetent people will not want to receive medical care from your office. This starts the following domino effect:
Your marketing efforts attract new patients to your practice, but you and your staff have no workflow plan. You become overburdened with tasks other than seeing patients, causing delays in your schedule and creating long wait times. Staff members become overwhelmed with handling various tasks and fail to provide excellent customer service to patients. You and your staff's frustration become visible to your patients and your clients have a poor "patient experience". Dissatisfied, your patients tell their friends and family about their poor patient experience. Now you have lost a "new" patient that you spent marketing dollars to attract, and you've lost potential patients through negative word-of-mouth advertising. Ouch!
This type of cycle is devastating to your bottom line and your reputation. You lose the ROI on your marketing efforts, and you lose the repeat business of patients. Find a balance in your workflow plan, maximize efficiency in your operations and provide adequate personal attention to your patients. Maintaining a workflow balance will boost your marketing efforts so that you get more bang for every marketing buck spent.
Rx MD Marketing Solutions is your number one healthcare marketing resource on the web. To obtain a FREE Workflow Analysis Checklist simply e-mail us and request a copy, we are your medical marketing specialists and we are here to help!