Lesson 3


The Purpose of Healthcare Marketing.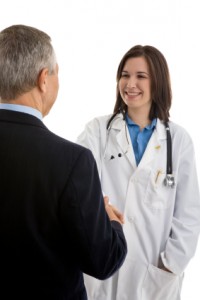 Hiya!
Welcome to lesson 3.
Today we are going to cover the basic purpose of healthcare marketing.
If marketing doesn't make a whole lot of sense to you or you simply don't like it, this lesson was made for you. I'm going to show you how easy it is to understand the nuts and bolts of healthcare marketing.
Let's get started, shall we? Okay.
Why You Need Healthcare Marketing
There are many reasons why you should market your medical practice, clinic, or hospital. The first few reasons that come to mind are probably: to create a steady flow of new patients, to improve professional recognition, and to increase the profitability of your health care organization. These are valid reasons to engage in healthcare marketing; however, none of them are the primary reason you should engage in healthcare marketing.
The Core Purpose of Healthcare Marketing
On its most basic level healthcare marketing is what you do to communicate how you can help your patients. The overriding goal for all of your healthcare marketing activities should be to tell your desired patients how you solve their problems.
Although this concept is straightforward, most health care professionals fail to accomplish this goal. Why? Because most physician-owners and practice managers assume that patients already know and understand how you can help them. Well, they don't.
I have a client that operates a large family practice that consists of a 30,000 person patient panel. After conducting a patient survey (as discussed in lesson 2), we discovered that nearly 70% of those patients surveyed knew of only two or three of the over 20 services offered by the practice. As a result, many existing patients were seeking care for procedures and products elsewhere when they could have been treated by their family practice physician.
At this very moment we have initiated an internal marketing campaign to increase the awareness and use of the products and services provided to existing patients. The numbers are not in yet, but there is no telling how much money this practice has let walk out the door because of their failure to clearly and consistently communicate with their existing patient base.
Clearly and consistently communicating with your existing patient base is the foundation of great internal healthcare marketing.
How to Prevent Yourself from Communication Failure
The very first thing you need to do to make sure that your healthcare marketing activities are serving their purpose is to determine every single detail a total stranger to your practice would need to know before they decide to become your patient. What information would your prospective patients need to know to be able to confidently make an appointment with your office? How can you move them from one step to the next?
This means you need to define each step. Beginning with their first contact with your office and ending with them in your waiting room. Figure out what you want your prospective patients to do at every step, and then tell them exactly how they should do it. This is called presenting a call to action.
For example, let's say that the very first step a prospective patient has with you is viewing your Yellow pages ad. What is the next step you want them to take when they see your ad? Is it to call your office for a free consult? Is it to visit your website to receive your free e-newsletter? Is it to redeem a special offer?
Once you have decided what you would like them to do, you must tell how to do it. Do they need to call a specific phone number for a free consult? If so, tell them. Do they need a special code to redeem your special offer? If so, tell them. Don't assume they will do or know anything.
Also make sure that you describe in detail the benefits they will receive as one of your patients. We will cover benefits vs. features in a future lesson; however, I mention it here because unless you tell people why they benefit from choosing your care, your communication is incomplete and ultimately ineffective.
Remember, your prospective patients are consumers at heart. They make choices based largely on emotion. They select a provider because that provider makes them feel confident, that provider has created a personal connection with them, and that provider has shown them how they can make their patient's life better.
Always Tell People How You Help Them
The way you communicate with your patients lays the foundation for your brand, because your organization's brand demonstrates what you stand for. Therefore, if you communicate with your patients ineffectively, or worse, you communicate the wrong message to your prospective patients, you damage your brand.
The message you communicate to your patients is the promise you make to them, and your brand must match your promises. You must deliver what you say you do.
In other words, if you tell your prospective patients that you provide quality health care for the entire family, then that is what your patients must experience. They must experience well-trained staff, clean facilities, knowledgeable providers, excellent customer service, and services that meet the needs of children and adults.
When you do this properly you demonstrate that your medical facility is professional, competent, and trustworthy. These are the things that will make your healthcare marketing activities effective and profitable.
As changes in health care continue to change the industry's landscape in unknown ways, it is becoming more essential than ever for you to master effective communication with the people you serve.
Whether health care becomes more consumer-driven or government regulated, people are going to have an even greater ability to choose who they want to care for themselves and for their families. As a result, they will become much more selective as to whom they allow to care for them. Will you be able to ensure that they should choose you?
Action Step 3
Take the time to map out on paper each step your prospective patients need to go through before they would feel comfortable reaching out to your health care organization. Then, make a list of every product and service your office provides and determine how each of those products and services benefits your patients. Once you have this information, look at ways to clearly communicate how these things help your target market. Look at each step your prospective patient has to go through and ask, "Do they have everything the need to know to go to the next step confidently?" Then make sure every piece of marketing material you produce communicates this message effectively.
Stay tuned for Lesson 4 where we will cover exactly how to determine your target market, brand your practice, and create a unique selling proposition that will kill your competition.
See you then!
Get here from a link from a colleague, Facebook, or Twitter? If so, click here sign up for this e-course yourself to make sure you get each and every lesson. And if you haven't already, subscribe here to get our quarterly e-newsletter. Every issue of our newsletter provides actionable and useful information that you can use today. Best of all, our e-newsletter subscribers get access to special discounts and rates not available to the public. Join us. Subscribe now!
About Rx MD Marketing Solutions
Rx MD Marketing Solutions is a no nonsense healthcare marketing firm that believes healthcare marketing doesn't have to be unaffordable, complicated, or unethical to be effective.
At Rx MD Marketing Solutions we seek to provide you with the knowledge, tools, and technology you need to build a sustainable medical practice so that you can enjoy more of what you really want to do…practice medicine.
Rx MD Marketing Solutions can help you build better relationships with your patients, and help you bridge that sometimes uncomfortable gap between providing superior patient care and the need to market and sell your services.
We help savvy practice managers and entrepreneurial-minded physicians build successful and sustainable health care organizations without giving up what you stand for.