Lesson 2


You are in the service business.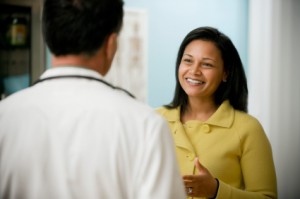 Welcome back!
Are you ready for lesson 2?
It's time to lay the foundation for effective healthcare marketing.
Something terrible is happening in the health care industry. The frustration that comes with operating a health care organization is starting to bleed into the way patients are treated as consumers.
Health care consumers increasingly complain about the poor level of customer service they experience during a visit to their doctor. On a whole the importance of superior customer service is getting lost among many health care providers.
Your Profession is Personal and Intimate
Historically, the practice of medicine has been a "high-touch" profession.  In other words, the practice of medicine is a relationship-based profession. It's not just about caring for your patients medically; it's about caring for them personally too.
Just think…doctors used to make house calls! A relationship with your physicians was personal, intimate, and likely involved your entire family. You may not make house calls anymore, but the personal and intimate elements of providing health care are still essential to your profession.
Okay, so what does this have to do with healthcare marketing? Everything!
The way you treat your patients speaks volumes about your brand, your image, and your bedside manner (which by the way is the single most important factor that influences people's idea as to whether or not they have a "good" physician worthy of recommendation).
When you provide superior customer service within your health care organization, you give patients something to talk about. And what others say about you is far more important than what you say about yourself. If you can generate positive word-of-mouth advertising amongst your current patients you are laying the foundation for powerful and effective healthcare marketing.
Laying a Powerful Foundation
So, how can you begin to build a foundation for powerful and effective healthcare marketing?
Start by striving to provide each one of your patients with remarkable customer service.  Start with the little things. Take a moment to make each patient you see feel special by asking friendly (and appropriate) questions. For example, ask about their children, their work, or their hobbies.
Create a system to call all patients regarding their test results, whether you have good or bad news. In fact, you'd be better served financially to evaluate all test results with your patients in person during a scheduled appointment. Unfortunately, the billing and coding benefits of this strategy are beyond the scope of this lesson, but you can learn more about that here.
Making Real Connections during Your 10 Minute Visit
Learn to use your body language during a patient visit so that they feel like you're giving them the time and attention they deserve. Nothing makes a patient angrier than waiting 45 minutes to see their physician for a ten minute visit that the physician rushes. You may need to stay on time and efficient to get through your day, but using a few simple techniques you can maximize the connection you make with your patients in that short ten minute window.
Begin by entering the room with a relaxed energy. Before you start the patient's exam, spend a minute or two building rapport with your patient by generating some friendly conversation. While you conduct your exam ask the patient about the condition they've come to you about.
Let them use this time to express their feelings about what they are dealing with. Many times your patients really just want to be heard, because that in and of itself can be healing to them.  Show them that you are listening by making occasional eye contact and nodding your head. Let them know you understand.
These are simply ways that you can wow your patients, and in turn they will stay loyal to you and become a walking advertisement for your medical practice.
Wowing Patients is Everyone's Job
The way your patients see and talk about your practice begins with you, but this service-oriented mentality must also be demonstrated by your office staff and medical team. Be sure that your supporting staff understands the critical role they play with respect to providing patients with an extraordinary experience.
This means your staff needs to be properly trained on how to answer phones, welcome patients to the practice, address concerns, deal with problematic patients, and maintain a positive attitude and friendly disposition.
Taking the Pulse of Your Practice
If you are truly committed to developing a profitable medical practice it begins with superior customer service. And the easiest way to provide superior customer service is by knowing what your patients want and need. When you know what your patients want and need, you can ensure that you are taking the appropriate measures to meet those wants and needs.
What's more, once you understand your current patients well, you will be able to clearly identify the kind of patients you want to attract with your external marketing activities.
The single best way to find out whether or not you're meeting the needs and wants of your patients is by conducting a patient survey. Simply have patients fill out a survey like this one at check-in. Once you've sampled at least 15-20% of your practice, you will have enough of a sample to determine where to begin making improvements and changes.
Look at these surveys personally and take the results to heart.  It is only until you start caring about how your patients feel about your practice that you will start to make any necessary changes. Hey, if Nordstrom, UPS, and Southwest Airlines can go the extra mile for their customers, so can you.
Commit yourself to excellent customer service today.
Action Step 2
Conduct a patient survey to get an idea of what your patients like about your practice, where you can improve, and what you should look for in attracting new patients to your practice. Don't have a survey to use? Click here to download one we use with our clients.
Have a question about applying these principles to your health care organization. No worries. Just shoot us and e-mail and we'll be happy to see how we can help you put these principles into practice.
Stay tuned for Lesson 3 where we will cover exactly how to make sure that prospective patients choose YOU as their preferred healthcare provider so that you can dominate your market.
See you then!
Get here from a link from a colleague, Facebook, or Twitter? If so, click here sign up for this e-course yourself to make sure you get each and every lesson. And if you haven't already, subscribe here to get our quarterly e-newsletter. Every issue of our newsletter provides actionable and useful information that you can use today. Best of all, our e-newsletter subscribers get access to special discounts and rates not available to the public. Join us. Subscribe now!
About Rx MD Marketing Solutions
Rx MD Marketing Solutions is a no nonsense healthcare marketing firm that believes healthcare marketing doesn't have to be unaffordable, complicated, or unethical to be effective.
At Rx MD Marketing Solutions we seek to provide you with the knowledge, tools, and technology you need to build a sustainable medical practice so that you can enjoy more of what you really want to do…practice medicine.
Rx MD Marketing Solutions can help you build better relationships with your patients, and help you bridge that sometimes uncomfortable gap between providing superior patient care and the need to market and sell your services.
We help savvy practice managers and entrepreneurial-minded physicians build successful and sustainable health care organizations without giving up what you stand for.