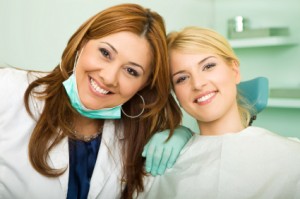 Wouldn't you love it if your patients felt unyielding loyalty to you?
Wouldn't you love it if your patients didn't second guess your recommendations because they trusted your authority?
Wouldn't you love it if you had a consistent flow of patient referrals without having to ask your patients for the referrals yourself?
You can! You simply need an e-mail newsletter. And you really do NEED one.
4 Reasons Your Medical Practice Needs an E-mail Newsletter
1. To make patients aware of all of your products and services
You would be amazed at the number of patients in your practice that have no idea what you have to offer them. They are out looking for health care products and services that are right under their nose and right under your roof! Stop letting your hard earned revenue (and patients) walk out the door when you can meet their needs. If your practice offers a wide variety of treatments and testing make sure your patients know about it. The easiest and most effective way to do this is through the use of an e-mail newsletter.
If you want your newsletter to be read and shared then you must provide USEFUL and interesting content. Take the opportunity to share with your patients how the (likely unknown) products and services you offer can improve their health and lifestyle. Overtime, you will find patients will start to inquire about these services and your revenues will increase too!
2. To provide an easy way for patients to refer your practice to their friends and family
If asking for referrals makes you cringe, cringe no more! When your practice provides patients with a regular e-mail newsletter, all you need to do is be sure a "Tell A Friend" link is included. A "Tell A Friend" link is a simple way for your patients to share information about your practice with their friends and family. If you are doing your job well and providing your patients with valuable information in each e-mail newsletter, you can be sure they will forward your newsletter to their e-mail contacts as well.
The key to making a "Tell A Friend" link work for you is to ASK your recipient to share the newsletter. At the bottom of your newsletter just say: "If you enjoyed this newsletter and think your friends or family might benefit from this information, please click here to share." It's that simple.
3. To solidify your doctor-patient relationship and increase patient loyalty
Having a e-newsletter also makes it easier for you to establish a strong doctor-patient relationship with your patient panel. By consistently communicating with your patients you increase your patient's top-of-mind awareness of your practice. When they think health care, they will think your medical practice. Your patients will grow accustomed to attached to hearing from you and ultimately they will prefer your opinion over many others, simply because they are familiar with you.
For example, a local clinic in my area maintains and e-mail newsletter that includes "health alerts." These health alerts vary from reporting a spike in flu cases to a spike in allergy cases, and they are specific to our local area. When you visit this clinic's website, you are encouraged to sign up for these health alerts. This is an excellent method for gaining permission to communicate via e-mail with both current and prospective patients. What's more, people look forward to these e-mails because most people are concerned with their health. They want to protect themselves and their families if they can, and they feel that these "health alerts" enable them to do so.
Through e-mail marketing, this local clinic is becoming a trusted primary healthcare resource for thousands of people in this metro area.

4. To encourage patients to engage in preventative care and follow suggested care plans
Yes. Unreal as it may seem, your e-mail newsletter can actually increase your patients likelihood of following up and following through with preventative care and care plan compliance. You can use your e-mail newsletter to send general reminds to patients about critical health care issues, and increase awareness surrounding preventative care.
You can also share (HIPAA compliant or anonymous) success stories about patients who have followed your care plans and experienced excellent results. Sharing these kinds of stories makes your e-newsletter both interesting and relate-able. Moreover, this social proof will encourage your other patients to follow suit and follow your care plans as well.
The Bottom Line: E-mail Marketing Works Well in Medical Practice Marketing Efforts
When you use an e-mail marketing service like Aweber to keep in touch with your patients on a regular basis, you establish your presence in their every day lives. No longer are thoughts of you associated with emergency visits, dreaded check-ups, or a sudden illness.
Believe or not, seeing an e-mail from your practice in their inbox (unrelated to any of the aforementioned) helps them build a relationship with you. It helps your patients see you in a positive light. And, if you do your e-newsletter well, they may actually look forward to receiving it.
Not to mention, e-mail marketing is far less expensive than any direct mail or advertising that you can conduct in your own community. For example, most practices see $47 ROI for every $1 invested in e-mail marketing. Those are figures that are hard to beat using almost any other marketing tactic.
Need some help generating ideas on what to include in your e-newsletter? Let us know in the comments. Let's brainstorm together. And if you need help putting together a turn-key email marketing campaign (done right), contact us! That is what we are here for. 🙂
And while your at it, sign up to get our free e-newsletter! It only comes out quarterly and our next issue is set for release in December. You won't want to miss it.