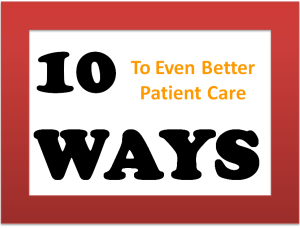 To maximize your ROI on marketing dollars spent you must measure up to the promise you've made to your patients. Your medical marketing strategies may bring them in the front door, but it is the quality of care provided, the patient's experience with your staff, and the satisfaction of your patients needs and wants that brings them back. Use the following ten tips to ensure that you measure up to your message!
Schedule with add-ons and emergencies in mind.
Create your daily schedule with time built in for unexpected obligations. For example, leave 30 minutes open during your morning office hours to accommodate an emergency. Don't schedule that time slot until you start your day, and don't worry, it will get filled and if it doesn't use this time to work on articles, make phone calls, or catch up on paperwork.
Create a weekly list of goals.
Use your Smartphone or Day-Timer to map out your goals for the week. Prioritize your goals and check them off as you complete them. As you check off these goals you will feel a sense of accomplishment and stay encouraged to stay on track.
Empower your staff.
Hire self-starters that you can trust to make good non-medical decisions. Your time shouldn't be spent scheduling repairs for equipment, ordering office supplies, or making minor office purchases. You have a qualified staff…use them!
Use office videos to cross market and provide patient education.
Create office videos to explain common procedures and to market other products and services to your patients. If a patient can watch a video for several minutes and better understand a procedure, this frees you from having to do it yourself and saves you time throughout your day. If you are a primary care practitioner who also offers aesthetic care, you can also use videos to tell patients about aesthetic procedures that might interest them.
Use idle time wisely.
When you're not working with patients or when between surgical cases use that time to make phone calls or sign charts. You could even use this time to write blog posts and improve your internet marketing or outline an article for press.
Don't take phone calls during patient's appointments.
Unless it's an absolute emergency, don't take calls while you're with patients. Not only does it make your patient feel unimportant, but it prolongs your patient's visit and puts you behind schedule. Designate a specific time to return routine phone calls.
Dictate while you're with the patient.
Don't put off for later, what you can do now! When dictating in front of your patient you record facts as they are fresh in your mind. This also reassures the patient that you are adequately noting their medical records and communicating with their referring physician. Today there is no excuse for not dictating in a timely fashion; simply use a voice activated dictating software program and headset like that offered by Dragons Transcript. Visit http://www.dragontranscription.com/.
Assign a time for managing paperwork and mail – do it only once a day!
Set aside time to review paperwork, and then delegate follow-up responsibilities to qualified staff members. Make notes for yourself with respect to special details and move on to your next project.
Ask your staff to keep you on time with your schedule.
Set a goal for the amount of time you spend with patients during an appointment and set a goal for time spent in between patients. Encourage your staff to help keep you on time. For example, if you fall behind schedule request that a sticky note be placed on top of the next patient's chart, with a friendly remind to put some pep in your step. This will help you maintain an awareness of your goals and whether or not you are meeting them.
Give yourself some personal time.
To be your best self, you must have some time to yourself. Simply allow yourself 10 minutes to stretch, breathe, or relax at some point during the day, and not when your day is over. By giving yourself time, you will feel refreshed and ready to provide your patients with the quality health care they are looking for.